Chip and Joanna Gaines haven't just taken over the airwaves on their uber-popular HGTV program, Fixer Upper. They're taken over the city of Waco with their Magnolia Market at the Silos. Those of us who live in Texas within a few hours' drive of Waco can get in the car and be at Magnolia easily to shop and soak in a little of that Gaines magic. But if you're planning a trip from farther away – and so many are! – preparation is key. Knowing what to expect and heeding a few tips can help ensure your trip is a good one.
​Bring your patience
You're going to wait in line. Just accept it on arrival so you're not disappointed to see that you might have to wait awhile to get inside the store, or the super-busy Silos Baking Co, for that matter. But, there are some ways around it. According to the store's helpdesk, Magnolia "is busiest during the hours around lunch; particularly on Saturdays, when we see thousands of people come through our doors. We suggest coming near opening or closing hours to have the most peaceful shopping experience."
We got lucky on our visit, arriving in mid-afternoon and strolling right in, but these people did not.
Bring your wallet
If you're a fan of Chip and Joanna's French country style, you may end up with far more merchandise than you'd planned. The store is filled with bits and baubles, pillows and lanterns, decorative wall hangings, candles and containers, kitchen items like mugs and bowls, and potted stuff and floral stems and some of the metal wall hangings Joanna favors in her fixed-up homes. You'll want two of everything.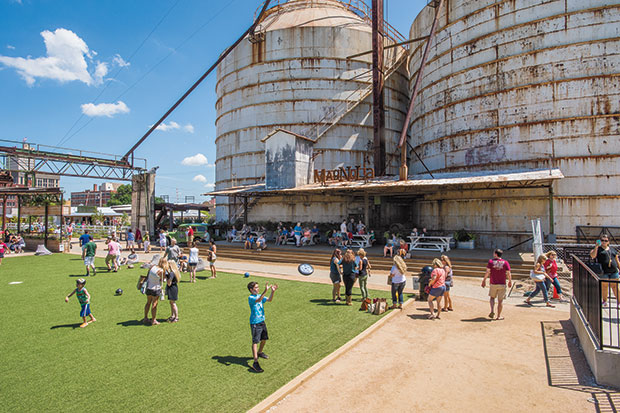 At the very least, you'll probably have orders from friends and family to buy a bunch of Magnolia t-shirts and sweatshirts. If you're thinking you can just buy everything you like online, Popsugar cleared up that, "About 40 percent of the goods in their Magnolia Market store are available in their online shop, the other 60 percent can only be purchased at the physical location."
Bring your appetite, too
In addition to the Silos Baking Co, there is a rotating drove of food trucks lining the lawn where you can grab everything from mac 'n cheese to hot dogs to crepes to cold-pressed juice. After all that shopping, you'll definitely want a snack. Bonus tip: Stake your claim on one of the covered tables for some shelter from the sun. Waco is HOT in the summer. We're not above a little table stalking when necessary.
It's ok to bring the kids
In fact, they'll probably have a blast, playing cornhole, kicking a ball around, and swinging on the swings. In the back of the property, where Magnolia Seed + Supply, the Gaines' outdoor mecca, is located, there's even a teepee.
Keep in mind, though, that the breakability factor inside the store is high. Check the calendar ahead of time
Many disappointed families have arrived in Waco all set to shop, eat, and play, only to find out that Magnolia Market and the Silos Baking Co. are closed on Sunday. This may affect your trip. You'll also want to pay attention to their Facebook page, which lists upcoming events like ongoing Movie Nights at The Silos and the Silobration in October.
Make "just in case" plans for the rest of the day
One of the things that stood out to us is how different our expectations were from the reality of Magnolia in terms of the time we would spend there. We were done in a couple of hours, and that was with some food truck and lawn-lounging time. If you want to continue along the Fixer Upper Tour, head to Harp and Co Design. This is woodworking master Clint Harp's nearby shop, where you can browse and buy before heading to JDH Iron Designs, Fixer Upper metal art designer Jimmy Don's shop, which is about a 25-minute drive through the countryside.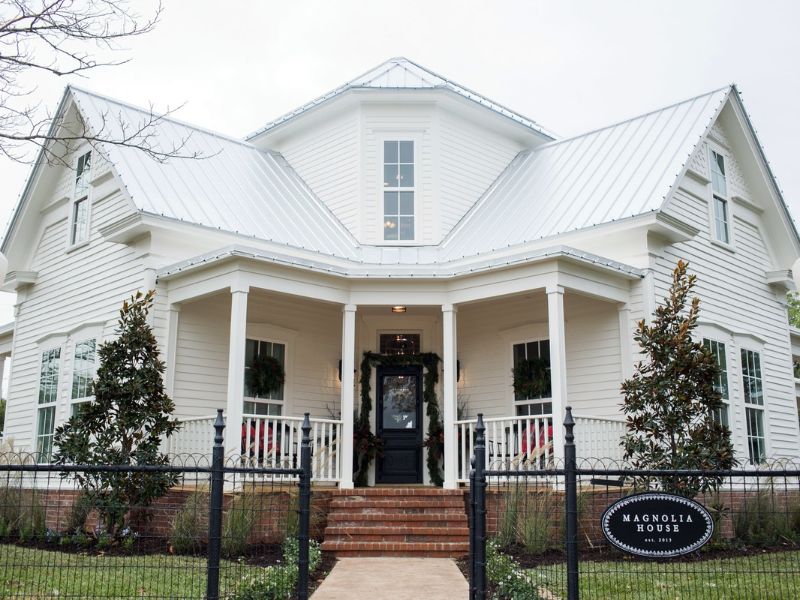 Stay in a Fixer Upper House
The Harps' home that was fixed up on the show is right next door to their shop, and is now available for rent through Airbnb – and it's not the only one. The historic Magnolia House is also on Airbnb, although it's so popular, even at $695 a night, that it's booked through 2017. Do a search for "Fixer Upper Airbnb" for more options.
Get there in style
While parking is easy and free at Magnolia, you can add to the fun (especially for the kids) by taking the Silos District Trolley, which runs runs every 15–20 minutes throughout the day and will stop anywhere along the route so you can hop on or off to browse the downtown area.
Document your trip
You'll undoubtedly go to great lengths to do so, because social media and friends demand it! Your family may look (mostly) ridiculous, but you won't care because you got a picture in front of the Magnolia sign. The strong sun can wreak havoc with your outdoor photos, but don't leave without snapping a pic under the #MilestoMagnolia sign and uploading it to Instagram.
By Jaymi Naciri, Realtytimes.com