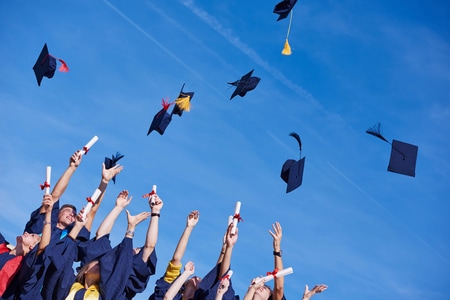 In an effort to reach out to homebuyers and owners juggling student loan and mortgage payments, Fannie Mae announced several new policies that ease some of the challenges these people face.
There are three major changes that are expected to make obtaining a residential mortgage easier for borrowers with student debt.
Three new rule changes
The first is the student loan cash-out refinance. This allows borrowers to refinance a current mortgage to use the funds to pay down the remainder of their student loans. They could also potentially get a lower mortgage rate in the process.
"44.2 million Americans are paying down student debt."
The second change applies to borrowers who have some debt that's paid by others, such as a borrower whose parents pay down the monthly credit card, auto loan or student loan payments.
Under the old rule, these balances would be included in a borrower's debt-to-income ratio – a measure lenders look at as one way to determine the risk associated with a potential borrower. The new rules state that they can be excluded from the DTI calculation, as long as they meet two requirements:
The debt must be paid regularly by someone other than the borrower.
The debt can't be a mortgage.
The third new rule allows lenders to look at student loan debt and the actual payments being made as part of the DTI calculation. Previously, lenders were required to factor in 1% of the total student loan debt. The problem with this practice is that many students paid less than 1% on a monthly basis.
According to Student Loan Hero, 44,2 million Americans are paying down student debt, and the typical graduate is leaving college with around $30,000 in debt; 1% of this amount would be $300. While the average monthly student loan payment is higher than this – $351 – the median monthly student loan payment is just $203.
Many times, factoring in an amount that was different than borrowers' actual loan payments artificially increased their DTI calculation and disqualified them from getting an affordable home loan with many lenders.
Addressing a growing trend
Fannie Mae announced these rules in response to an obstacle many prospective homebuyers have encountered in recent years. While there are many ways people can balance student loan debt and mortgage payments, it isn't easy. The National Association of Realtors found that 13 percent of homebuyers in 2016 said saving for a down payment was the hardest part of the homebuying process. Nearly half of these respondents said it was student loans that held them back.
"We understand the significant role that a monthly student loan payment plays in a potential home buyer's consideration to take on a mortgage, and we want to be a part of the solution," Jonathan Lawless, Fannie Mae's vice president of customer solutions, explained in a statement. "These new policies provide three flexible payment solutions to future and current homeowners and, in turn, allow lenders to serve more borrowers."
While these new rules are designed to aid borrowers, there is always a risk associated with new programs such as these. Some worry that, by changing the DTI formula, lenders won't get an as accurate a picture of a borrower's actual ability to pay down their mortgage, The Washington Post reported. In reality, these rules will likely be a wonderful help for some borrowers, but not quite the right solution for others. To determine whether any of them are a good option for you, reach out to Academy Mortgage.
Information courtesy of Paige Diamond or Academy Mortgage.