It seems everyone is jumping on the rustic-chic bandwagon, but what exactly is "modern farmhouse" style, and how do you discern which of its characteristics have lasting impact? Here's the short answer: Study the classics. Incorporating the following three time-honored design elements into your home will help you achieve this popular look and ensure that your style remains desirable for years to come. Let's take a look at the elements separately, and then see how they work together.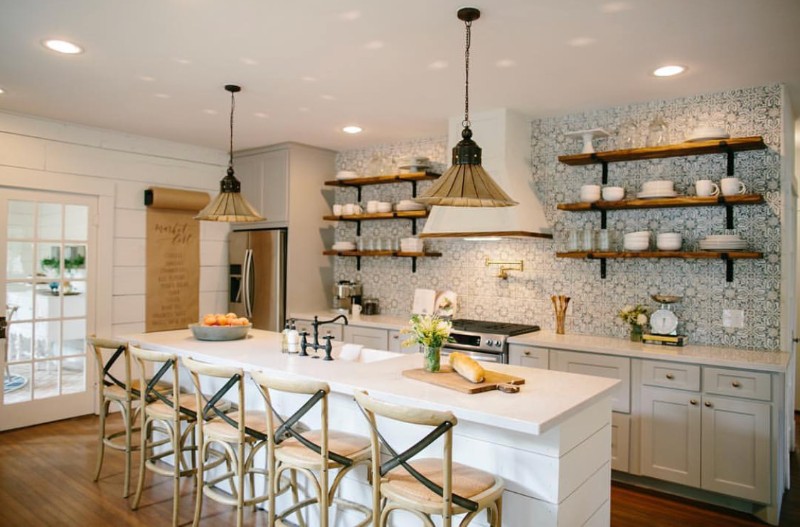 Magnolia Homes
The Basics
Shiplap. Shiplap is an architectural staple that was around long before it started filling up your Houzz ideabooks. It blends into almost any aesthetic and can be incorporated into virtually any room in your home.

For one of our projects (shown here), our clients wanted to take a more contemporary direction, so we kept the lines of the shiplap sharp and precise. We paired it with more streamlined furnishings as well, including a midcentury modern accent chair and a crisp white sofa.

Continuing the horizontal lines straight from the walls onto the sliding door of this Charlotte, North Carolina, kitchen makes for an integrated look, proving that shiplap should not be limited to walls alone. The choice to use "barn door" hardware is also a great way to echo a farmhouse motif without going overboard.

Bathrooms, living rooms, kitchens, bedrooms — shiplap looks great anywhere. The key is to be selective and try not to use it everywhere at the same time.

In this particular setting, we love the way the window and the shiplap entice you to slow down and appreciate the surroundings. Perhaps the architect drew inspiration from an old church and then brought the exterior to the interior. Who wouldn't want to spend an hour soaking in that tub?

From the smallest reading nook to the largest living room, shiplap looks at home and adds character. It fits in equally well in a coastal cottage or a little house on the prairie.

If you are renovating an older home or building a new one from scratch, don't underestimate the power of architectural elements like shiplap to bring the charm. This entryway is automatically more interesting because of its shiplapped walls, which allow the handrail and balusters of the stairs to remain straightforward and understated.

Copper State Flooring

Antiques. Nothing creates a space that feels cozy and collected over time quite like an antique.

Whether passed down through the family for generations or found at a local flea market, that perfectly ageless piece really helps finish off any vignette.

Something old creatively becomes something new again when reimagined with a different function. Relocating a chest of drawers from a bedroom to a bathroom morphs it into a vanity with tons of great storage — and lends beautiful patina.

Transforming artifacts into art is a common trick of the modern farmhouse trade. For example, the lamps on these nightstands were relics that once probably held oil or water. But now, they are a lovely source of task and ambient lighting as well as a welcome textural addition in this master retreat.

Antique furnishings have a distinct way of packing a visual punch as demonstrated by the gorgeous yoke-back chair in this design.

Often, an antique becomes the focal point of a seating group or furniture arrangement because it doesn't necessarily fit in with the other pieces around it.

If it looks like a nostalgic memento from the American dream, or a piece of ancient history from an exotic land, don't shy away from introducing a piece of the world's past into your present.​​

Bria Hammel Interiors

Industrial lighting. It's not often that the adjectives "rough" and "imperfect" are sought-after qualities. However, light fixtures with an industrial edge certainly make a good case. Nowadays, we find old-fashioned warehouse pendants being plucked straight from an actual warehouse and dropped directly above a kitchen island.

Authentic farmhouse light fixtures are typically more concerned with fulfilling a function rather than making a fashionable statement. But the modern take on industrial lighting works hard and brings the wow factor. This space was designed for a teen to have plenty of room to spread out his schoolwork, but it also serves as a hip hangout for his friends.

There's an endless array of colors and finishes available on the market, so you shouldn't have any trouble finding an industrial-style light that fits your needs and budget. Choose a color that complements the other elements in your space. In this mudroom, the black shade of the ceiling light echoes the black pulls on the upper built-in cabinetry.
Put It All Together
Industrial lighting and antiques. Reclaimed ceiling beams and deconstructed armchairs bring the rustic charm to this scene. Balancing out those more raw features with modern sconces (and swoon-worthy steel windows) updates the look and prevents it from leaning too Shabby Chic.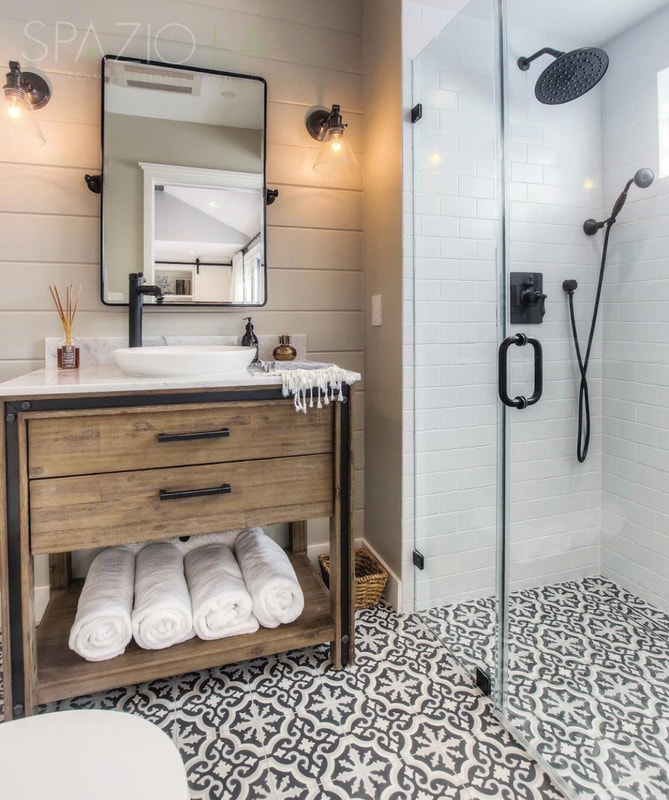 Spazio LA
Industrial lighting and shiplap. This bathroom is a great example of popular modern farmhouse style thanks to a shiplap wall and industrial sconces. Though the vanity itself does not appear to be a true antique, it does have an aged look, and the warm stain is a welcome foil to the cooler tiles found in the shower and on the floor.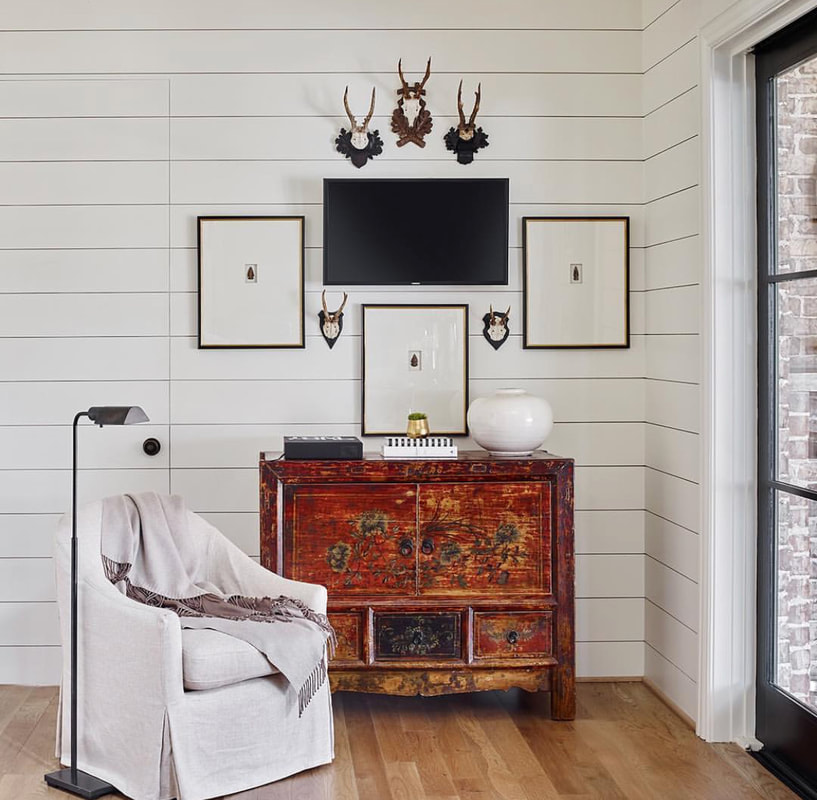 Davenport Designs
Shiplap, antiques and industrial lighting. This cozy nook displays a modern farmhouse trifecta. The antique chest, pharmacy-style floor lamp and shiplapped walls converge for a space that feels both modern and carefully collected over time. Keeping the overall color palette white and bright allows the chest to steal the show.
A rustic lantern, clean shiplap walls and an antique farmhouse table create an ideal setting for a relaxed meal. Top it off with hydrangeas and buffalo check pillows and it's downright dreamy.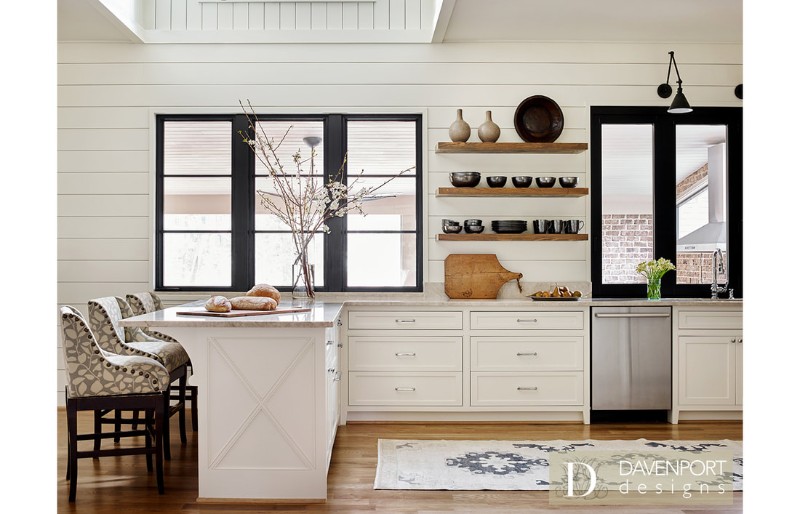 Davenport Designs
Finally, this kitchen sings with the harmonizing trio of modern farmhouse style. The consistent lines of the shiplapped walls act as an excellent backdrop for a collection of accessories that exude old-fashioned sophistication. The antique Oushak runner is a soft counterpoint to the angular lines of the industrial sconces above. This kitchen has classic appeal that the homeowners are sure to love for many years.
By Marie Flanigan, Houzz